The Builder Premium Dual-Feed.
The most advanced Dual-Feed available today
The Builder Premium Dual-Feed is able to print your most complex prototypes. The Dual-Feed extruder enables you to print your prototype in 2 different materials/colors. Control your Builder Premium with your smartphone from a distance while checking the live footage from the on-board camera. Did you know the Builder Premium is available in 3 sizes? Which size do you prefer?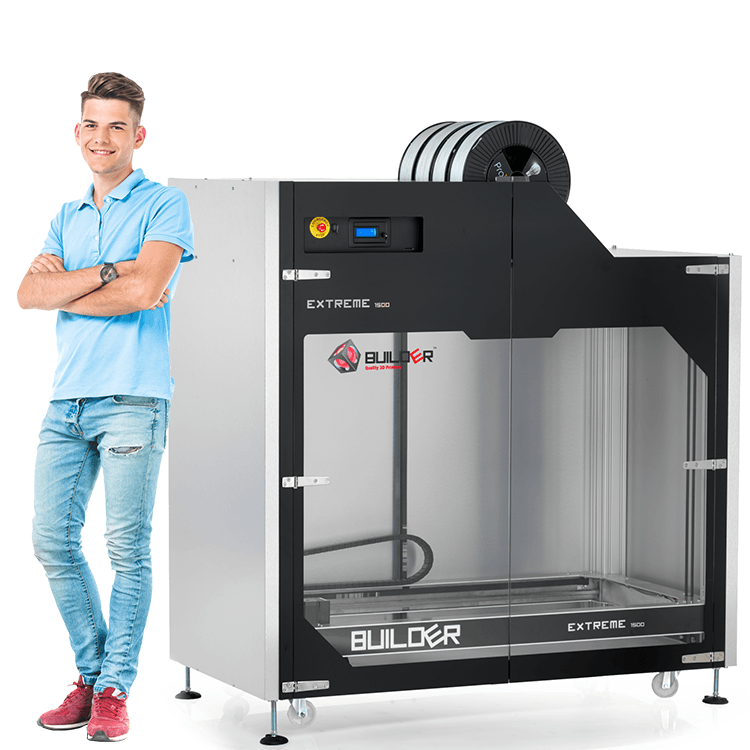 The Builder Extreme is one the biggest Dual-Feed FDM 3D printer available. The Extreme range consist of 3 different models with different print volumes. Check out the Extreme range here.
Fully closed, a 4.3 inch touch screen, Wi-Fi and more. If you want to go pro, the Builder Premium is definitely the right fit for you. Discover the Builder Premium here.
Builder Extreme 1000 VS Extreme 2000
With a build volume of 700x700x820 mm, the Builder Extreme 1000 Dual-Feed is one of the biggest FDM 3D printers available. The Extreme is designed, build and tested in the Netherlands. Due to this fact, the Builder Extreme 1000 is known for its reliability and high print quality. If the build height of the Extreme 1000 isn't enough, Builder 3D Printers offers the Extreme 2000 with a dazzling build height of 1820 mm.
Sample Request
Interested in the Builder Premium but would you like to see the print quality first? Get your sample here.