Builder Extreme 1000
€16.995,00 Ex. VAT
Meet the Builder Extreme 1000 – Professional but affordable large scale 3D printing
The Builder Extreme is seen as one of the most reliable large scale FDM 3D printers available today. The Builder Extreme 1000 3D printer has a print volume of 700x700x820 mm (XYZ), which allows you to print large prototypes/objects on 1:1 scale. The Extreme 1000 comes with Builders own developed Dual-Feed extruder. The extruder is able to print mono, dual but also color mixed objects. Did you know you can print up to 9 kg of filament without running out filament? And if you run out of filament, the filament detection will warn you so you can finish your print with new spools. The heated bed makes sure the objects stick to the bed perfectly but also heats up the chamber of the Extreme, which positively effects the smoothness of the object. Interested to see how the Builder Extreme 1000 is used by other companies? Click here for some interesting business cases.
The Extreme 1000 is currently in stock.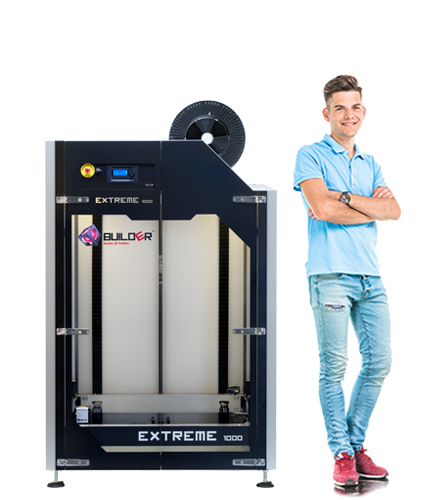 The Unique Features of the Builder Extreme
Use your mouse to go over the icons to see the unique features of the Builder Extreme.