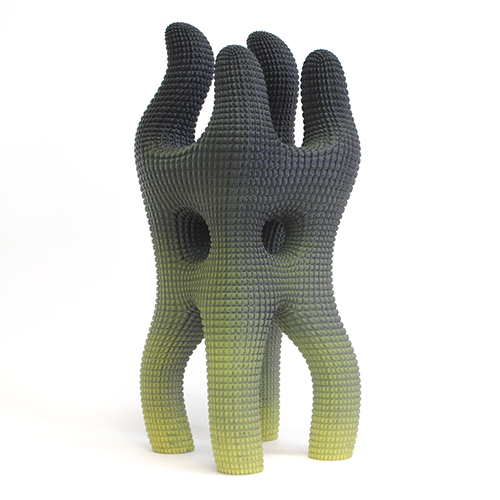 About the design
This amazing art object is designed by Elipeo, who is a France designer from Belgium. Elipeo explains: "the Protopod design is an optimal structure created to grow in the cubic space of a FFF 3D printer, ruled and limited by the laws of gravity : it simulates the generic form of an organic being, standing on the gravitational ground". The exterior of the Protopod has a reptile look and feeling, when seeing the Protopod its almost not possible to not touch it.
Printed on Big Builder Dual-Feed
The Protopod is printed on the Big Builder Dual-Feed White Edition from Builder 3D Printers with a layer height of 0.01 mm. Elipeo has chosen the Big Builder because of its huge build volume of 66 cm in height and because of the color mix software. Besides that, Builder has the only reliable Dual-Feed extruder with 1 nozzle which is needed when printing objects like the Protopod. A print like this easily takes 60 hours or printing, so reliability is an absolute must.
See the Protopod at the RapidPro 2016
Builder 3D Printers has the honor to showcase the unique Protopod  during the RapidPro from 1 – 3 March in Veldhoven, the Netherlands. The Protopod will be showcased inside the Big Builder Dual-Feed White Edition, the integrated LED lights of the Big Builder White Edition will give the Protopod an even better look. RapidPro, booth 116.
www.elipeo.eu