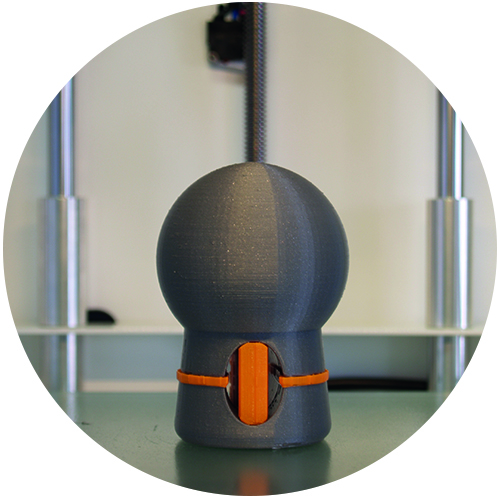 Design and produce your own product
When you need a certain product which is not available, just simply design it yourself and print it on your Builder. That's exactly what this blog is about. One of our customers has a boat and wanted to buy a steering wheel knob to make steering through the narrow canals easier. Unfortunately there was no steering wheel knob available for his kind of steering wheel. No problem, he designed it himself and printed it on the Builder Premium.
Printing the knob
The steering wheel knob has been designed in SolidWorks and is converted to a STL file. For slicing, the customer used the latest version of Cura. The steering wheel needed to be printed as smooth as possible as the customer has to use the knob several times with his bare hands during a boat trip and that is why is has been printed with a layer height of 0.1 mm. Due to the fact the Builder Premium is fully closed (stable temperature), the adhesion of the PLA between each layer is better which makes the knob even smoother. The orange you see on the picture is support. This will be removed later so the knob fits perfectly around the steering wheel. The total print time was 9 hours.
Share your Builder prints!
What are you printing on your Builder Original / Builder Premium? Share it with #builder3dprinters and/or #builderpremium.