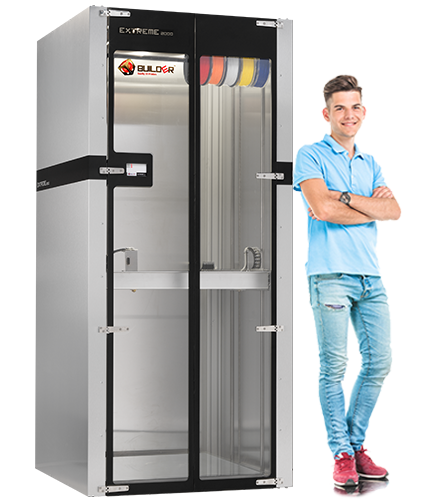 Demand for bigger 3D printers
Builder 3D Printers received a lot of requests from customers who were satisfied with their Builder/Big Builder 3D printer, but they wanted and needed to print bigger prototypes or other objects. The objects wouldn't fit on a Big Builder or they had to be divided into 4 or even 8 pieces, but that's not necessary anymore, the Builder Extreme is here.
The Builder Extreme 1000/2000
The Builder Extreme is available in 2 sizes, the X and Y axis are the same size (700×700 mm) but the big, or should we say the Extreme difference, is in the Z axis. The Extreme 1000 is able to print 820 mm in height and the Extreme 2000 a dazzling 1820 mm. With a build size like that, you can print almost everything, from huge prototypes to a full size sculpture. The Builder Extreme has a fully closed chamber, an integrated heated bed, a camera and can be controlled with Wi-Fi. One of the best things about the Extreme is, it comes with the unique Dual-Feed Extruder from Builder 3D Printers. The Dual-Feed Extruder (with only 1 nozzle) is able to print 2 materials through 1 nozzle. Printing support can be done with a different material or color. The Extreme is able to print PLA, PET, PVA, Wood and Bronzefill and Flex and comes with 3 different diameter nozzles, 0,4 – 0,8 and 1,2 mm.
Fully assembled or DIY kit?
Did you know the Builder Extreme is fully assembled when shipping it to the customer? Do you prefer to receive the Extreme as a DIY kit? No problem, the Extreme comes with a manual how to assemble it. Why ordering it as a DIY kit? Simple! Not every building is made to fit a Builder Extreme 1000/2000 through the front door. Did you know the Extreme has been printing for over a week before it arrives to the customer just for testing? More info about the Builder Extreme is available here.